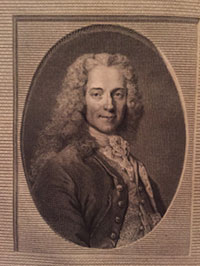 Voltaire is truly the best-known French philosopher/playwright/author of the Eighteenth century. Cases could be made for his friends Diderot, d'Alembert, and Condorcet, and his ex-friend Jean-Jacques Rousseau, but Voltaire was their leader, and they looked up to him. As soon as Voltaire returned to Paris in 1778 from an exile of twenty-eight years, d'Alembert, the perpetual secretary of the Académie française, named Voltaire secretary for the length of his stay, in other words, for as long as he wanted.
In addition to being one of the forty «Immortals», as the academicians were known, Voltaire, either by dint of his own talents, or by the conquest of influential friends in high places, managed to snag a few other prize appointments. Madame de Pompadour, Louis XV's favorite mistress, helped him to be named both royal historiographer and, this can be said only in French: «gentilhomme ordinaire de la chambre», which gave him, among other things, a royal stipend and, more importantly, direct access to the king. But Voltaire was never a good team player. He was constantly a thorn on the side of Louis XV, either by getting into trouble with the aristocracy, whose members did not entirely fill Voltaire with respect, or by speaking out against the arbitrary, capricious and frequently unjust powers of the triumvirate of monarchy, Catholic church and the judicial courts that were made up mostly of ecclesiastic zealots. Indeed, Voltaire's mantra quickly became «Écrasez l'Infâme!» ("Crush the Infamy!"), by which he named the absolute authority that could squelch protest with impunity. Several times it was Voltaire's own voice that was suppressed, either by exile (which he enjoyed in 1720, 1735, and from 1750 to 1778, or by being summoned as a tenant in the Bastille. One of these involuntary stints lasted for almost a year. But incarceration was not the way to shut Voltaire up. Exile did not work, either. On the contrary, he bounded anew with increasing vituperation, attacking anything that unjustly tortured an innocent victim and commanded that pieces of his body be cut off as the captive watched, then ordered that all the pieces be thrown onto the pyre to erase all traces of them. With impassioned pleas he enjoined all thinking, feeling people to stop draconian punishment of those accused of trivial misconduct.
Then, in 1774, Louis XV died. Next in line, his grandson Louis-Auguste, nineteen years old, married to the Austrian princess Marie Antoinette, became Louis XVI. Voltaire, far away by the Genevan border in his château of Ferney, saw clearly, like everybody else, that this new boy-king was dithering and insecure. It was high time that the philosopher returned to the place of his birth, and to the place of his triumphs.
It is at this moment, February 10, 1778, that professor Roy Luna begins his novel Lord of Reason, describing the resounding day of glory when the people of Paris welcome back their philosopher-hero, thronging around him and declaring him the defender of the downtrodden, the advocate of the suppressed, the annihilator of tyranny. But Voltaire happens to fall into a household where brilliant—and strange—things were happening. With karmic justice, it was a house in which he had lived previously, with his hosts the marquis and marquise de Bernières. Located on the south bank of the Seine, across the river from the Louvre, it was a grand residence already in 1724, although a bit cold in the winter and emitting mysterious stenches in the summer. But after the architect to the aristocrats, Charles de Wailly, had a go at it, the refurbished town house glowed like a burnished emerald.
The owner of the house in 1778, a mere decade before the Revolution (but who knew it was coming?), is the marquis de Villette who is known in aristocratic circles as a very wealthy dilettante of arts and letters. That he is also known by le tout Paris as a man who likes to collect handsome boys from the provinces is not surprising in view of the fact that he spent his youth ambling about at night in the shrubbery of the Tuileries Gardens and in dark mausoleums of the Cemetery Père Lachaise, looking for ephemeral love between the parterres and the tombs as he cruised for construction workers and day laborers. Professor Luna intimates that Villette is willing, if for a moment, to rectify the usual social hierarchy, with the man of the lower echelon temporarily on top. But—où sont les neiges d'antan?—the peccadilloes of youth become the dalliances of midlife, and the marquis de Villette matures, enhances a sumptuous town house, marries one of Voltaire's orphans from Ferney, sets up his lover, the marquis de Thibouville, on the floor above his (and therefore easily accessible by the secret staircase that Wailly insisted was de rigueur for any aristocrat), and, most important of all, engages a maître d'hôtel, monsieur Maurel, who becomes his very able enabler. Traveling himself into the provinces, this stupendous majordomo works seriously at scrounging up the best looking, the most muscled, and the sweetest of peasants who have enough acumen to become valets, equerries and scullery boys. Maurel runs a tight household where his master's latest dalliances happen in-house, away from the prying eyes of the police
lieutenant Lenoir.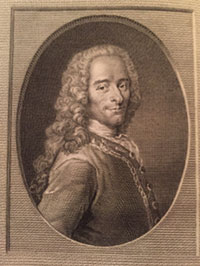 Two of the household servants are André, who hails from Normandy, and Zénobe, exiled from his home in Savoy, who careers into Paris to meet his hero Voltaire. Due to a shortage of beds for the household staff in the servants' quarters across the garden from the main house, André and Zénobe are forced to share a bed. This bed becomes a place that the French call «un lieu privilégié», although far from being a place of sanctity, it does become for the young men a place of meeting, of confession, of discovery, and eventually the place where they fall in love. Having been grooming the boys for delivery unto the master and the master's boudoir, the maître d'hôtel Maurel realizes that the boys have fallen in love with each other. His maternal side comes to the fore, and he pledges to heaven and man that his two angels will never be manhandled by any aristocrat.
Aristocrats, however, are used to getting their way. The marquise de Polignac, Marie Antoinette's favorite lady-in-waiting, is a prime example of this as she is the first to seduce the young Zénobe. (She is quick to realize that the young man is an ersatz valet; he is too fidgety and shows his teeth too often by either laughing in the salon or biting his lip.) Villette and Thibouville in their younger days used to flip a coin to see who would get the first night with a trick. But now, the proximity of these two healthy, beautiful boys is too painful for the noblemen, who are not noble men. Spying on the lads as they learn to fence, bribing them with farfetched offers of becoming chamberlains, and seducing them as all aristocrats in all novels finally do, it all becomes a dying shame in that the patricians become the government that suppresses, and the peasant boy-toys must either learn to accept the ways of the world, or rise up in rebellion to face their tormentors. Let's just say that André and Zénobe would make Voltaire proud.
Lord of Reason is a novel that fancies itself a successor of Eighteenth-century fiction such as Le Paysan parvenu (The Upstart Peasant), by Pierre de Marivaux, where the handsome Jacob manages to charm himself into polite society. There are also whiffs from stories like Choderlos de Laclos' Liaisons dangereuses, where the fiendish Valmont seduces a servant girl, who proceeds to give birth and drown both baby and herself in the Seine in the first chapter of Lord of Reason. Suzanne, a servant girl in the hôtel de Villette, used to be a recalcitrant nun, whose ultimate escape was told in the novel by Denis Diderot, La religieuse. Two other Diderot novels, Jacques le fataliste and Le neveu de Rameau (Rameau's Nephew), manage to make a couple of incursions into professor Luna's novel, as does, most intriguingly, Gustave Flaubert's Madame Bovary. This constant borrowing from contemporary Eighteenth-century literature, and even from other centuries, helps to develop one of Professor Luna's themes: fiction mirrors life, but that mirror itself, in the attempt to produce the exacting verisimilitude that is demanded of realistic fiction, at times paradoxically reflects the implausibility that real life oftentimes foists on the living.
How else to explain the myriad of oddball guests who come to visit the great Voltaire? Fellow philosophers and intellectuals, of course, are expected. But what to think of the chevalière d'Éon, the "knightess" who was awarded the Croix de Saint Louis for her, uhm, his exploits and courage in the Battle of Minden? She, rather he, spent stints in Saint Petersburg and London as diplomat and minister plenipotentiary, representing France with brilliance and aplomb. But once her primary backer is dead, King Louis XV, and the unimaginative Louis XVI is on the throne, d'Éon's gig is up, and he is forced to return home and wear the clothes of her sex, which, for the historical d'Éon, was not revealed unequivocally until her death years later. She complains vociferously, in the marquise de Villette's salon, that when she was a man he was allowed to gambol and swear and make war with complete freedom. Now that she is a woman she is expected to marry and tarry in domesticity or join a nunnery.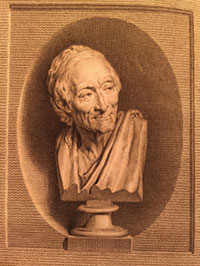 One of d'Éon's interlocutors sympathizes with her predicament. His name is Benjamin Franklin, fresh from having signed a treaty of Franco-American alliance with the French Foreign Minister, the comte de Vergennes. He answers d'Éon by praising her as a potentially superior wife, both as a talented and intelligent life companion, but also as a superb bodyguard. She responds by reminding him that he, too, once played the role of a bright and articulate woman. When he was sixteen years old and apprenticed by his older brother James in his newspaper business, Ben complained that James never published anything he had written. He came up with the idea of writing letters under the feminine pseudonym of Mrs. Silence Dogood and slipping them under the door at night. So convincing was his depiction of this female character, that James printed the letters in the newspaper, all fourteen of them.
Men who are women, women who are men, boys in love with each other, aristosharks preying on the help, oh, and a singularly unique voice, that of the 84-year-old Voltaire, perhaps a bit dry and trembling now, but still young in its vigor and veracity, lend Lord of Reason an arresting take on the busy Eighteenth century. By the way, Professor Luna promises more tomes in this series which he calls A Revolutionary Education. Philosophy is usually not this much of a romp, and the discoveries that are revealed in this novel make a hell of a history class.
---
---