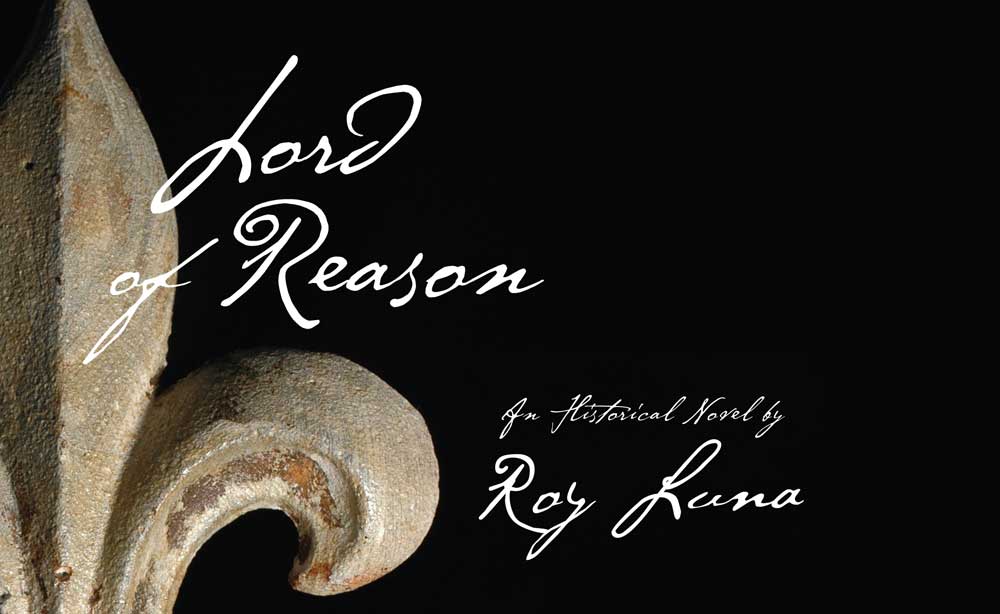 Lord of Reason
A Novel
By Roy Luna
Category:  Eighteenth-century France; Biographical fiction; Meta-historical fiction; Literary fiction; Gay Romance.
Hardcover                                                    $29.99
400 pages
ISBN: 978-0-9967031-8-5
April 1st, 2016
---
Paperback                                                    $19.99
400 pages
ISBN: 978-0-9967031-0-9
August 1st, 2016
---
Ebook                                                           $12.99
400 pages
ISBN: 978-0-9967031-7-8
October 25, 2016
---
Synopsis:  Lord of Reason, a historical novel by Roy Luna
In the years leading up to the French Revolution, two servant boys in the Parisian house where the 84-year- old Voltaire has returned from long exile learn to use the philosopher's Cartesian methods to deal with their love for each other. They also learn, like the French nation itself, how to rid themselves of the oppressive tyranny of the aristocrats and the priests.
"Fiction demands verisimilitude; reality forces no such exigencies." So states the author of this curious amalgam of history and imagination that asks you to believe that a nineteen-year-old peasant from Savoy can travel to Paris in 1778 and become not just the boy toy of madame de Polignac, Marie Antoinette's favorite lady-in-waiting, but also secretary of Voltaire, the 18th Century's most celebrated philosopher. That the bumpkin irrupts into a household animated by one of history's oddest societies also stretches the fringes of the credible. Yet, the characters were truly there, and they did engage in quite intimate, and sometimes even dangerous, liaisons.
Zénobe Bosquet, the young parvenu, learns fast as Voltaire hobnobs with the electric Benjamin Franklin, in Paris to drum up support for his rebellion in America; the transgender Chevalière d'Éon, ex- Captain of the Dragoons; and the Chevalier de Saint- George, biracial son of an aristocrat and his female slave, who happens to be the best violinist and fencer in France. The philosophers Diderot, d'Alembert and Condorcet lend their support as the boy from Savoy shakes off his residual rusticity to become one of them: an acolyte of tolerance and an intrepid defender of the oppressed. Zénobe learns from the best to subvert both Church and Monarchy. In the meantime, he must fend off sexual overtures from the resident aristocrats and learn to embrace his love for a servant boy. In a word, this is the history of Zénobe's sentimental, and revolutionary, education.
---
---